0. El poder de la situación. Este documental resume los experimentos sociales con mayor prestigio a día de hoy. Se trata de los experimentos en el que nos muestran, cómo somos los seres humanos moldeados por la situación y el contexto que nos rodea. (Obediencia ciega, Autoridad, Liderazgo, Conformidad y la Dependencia situacional).
1.
"Nuestro instinto asesino"
Entrevista de Eduard Punset a David Buss (Psicólogo evolutivo, Universidad )
2.
"En la mente criminal", artículo de Luis Ariza
para El País sobre el neuroanatomista (y poseedor de un "cerebro psicópata") James Fallon.
2. Revista de Neurología: El cerebro materno y sus implicaciones en el desarrollo humano. Elena Escolano (Psicóloga y socióloga, Universidad de Zaragoza)
El cerebro materno
by
3.
El retrato del psicópata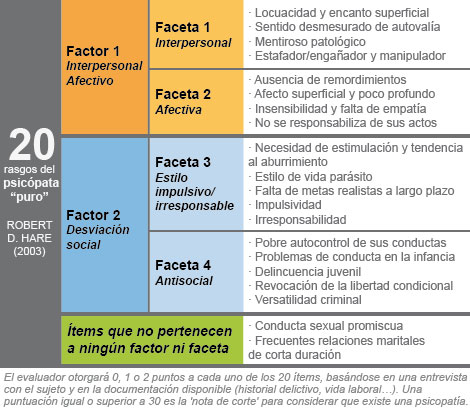 4.
Robert Hare
:
Sin conciencia. El inquietante mundo de los psicópatas que nos rodea
y el
Test de Psicopatía de Hare
(otro test,
esta vez amateur pero "gracioso"
)
5. Personality and Mental Health:
"Violent crimes and their relationship to personality disorders"
, Michael H. Stone.
6. Un blog de alumnas de psicología:
Mente psicópata
y Oferta de estudios,
Licenciatura en criminología
.
Online
.
7. Psicopatía y cine